EUREKA partners with Reference Service Press to offer an accurate, up-to-date, and comprehensive scholarship database.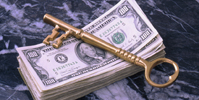 Funding Finder for Undergraduates
Use this award-winning database to search for funding available to college-bound high school students, high school graduates, currently-enrolled college students, and students re-entering college.
Thousands of scholarships, loans, grants, awards, and other funding opportunities, worth billions of dollars, are described.
This money can be used at private or public, 2-year or 4-year, and religious or secular colleges or universities in the U.S. No other source is more current or comprehensive.
Find scholarships and awards that match your:
unique personal and family characteristics,
grades, age, gender,
military affiliation,
major, hobbies and more.
Learn more about Reference Service Press and Funding Finder: More information